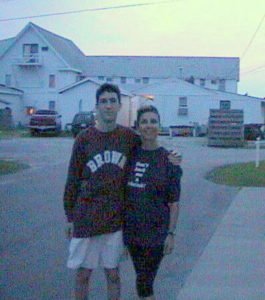 Yes, this is an actual picture of me at something like 15 and my real-life mom. I believe we're on a biking trip in one of the Carolinas.  The exceptionally poor quality is due to this having been taken at twilight with one of those yellow plastic disposable cameras.  (Remember those?)
So this post is about raising teens and, appropriately, links to my latest article at the Raising Teens blog ("a site for parents grappling with sanity"): Letter to Mom from Son at Graduation.  The truth is that I did not write this to my mom, nor did I write it at graduation.  I wrote it quite recently after being inspired by a corporate analogy (read the article and you'll understand what I'm talking about), and the article was originally called "Me, Inc." But I thought it was clever enough to share with the world, and I think it might also provide some useful insights for those who are in the grueling position of Parent of a Teen.
If you are such a person, I would love to hear your reactions to it in the comments below. I'd also be interested to hear what your kids think of it.  Do they relate? Did I get it right? Does it sound familiar? This is, of course, assuming that your teenager will read anything you recommend, or do anything at all that isn't the polar opposite of what you want.  It's okay – it will end some day!  (One of my favorite quotes on this topic – and this is an approximation from memory – is from Mark Twain, who noted that when he was 14, his father was a complete idiot; but when he turned 21, he was surprised to see how much his father had learned in 7 years!)
I do hope you mothers out there will get a kick out of it!
Learn more about our parenting services here.