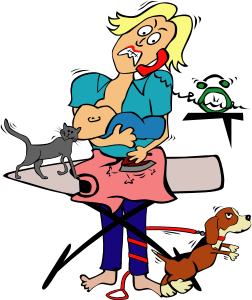 Are you sitting there feeling overwhelmed with all the things you want to get done for the holidays. In fact you may be running around hollering at the fact that there is not enough time, your kids are messing things up, or that the stores are out of what you need. Now my guess is that this is not a fun or happy way to spend the holidays. If you are planning to host a holiday party and are feeling stressed out, here are a few ideas of how to lower your stress level, and all you need is a pen and paper to start with.
Write down your goal:
Remembering that the goal of the holidays or any celebration for that matter is to enjoy the company of those you like and love to be around. Now picture what would that entail, a little food and drink, music and gifts, and maybe a game or two. Write out this description.
Make LISTS:
Write up a MENU (subject to change)
List of Party Items: Party Plates, Music, Games, etc…
Shopping List for Food
Shopping List for Gifts: For whom and what
Now that you see what you want the big picture to be and what you want to check off your list, the next step is to be REALISTIC of the following factors:
TIME: If you have a full time job or a busy parent of children, keep in mind that over planning can lead to stress and anger. Write out how many minutes or hours each day you can work towards creating this holiday atmosphere? When are you going to shop, cook, clean?
MONEY/BUDGETING: Be realistic about what you can spend on the holiday… for going into debt will definitely make you holler long after the day of celebration is over. No one wants that!
IDEA ~ Can't afford gifts? Write a short and thoughtful letter recalling a past happy memory with that person and give it with a small sweet treat. That will melt anyone's heart!
OK, now that you see what is really realistic, but at the same time you may still really want to host a fancy and elegant celebration for the holidays, you may be asking yourself… how can I still make it happen?
Remember Simple is Best:
All the fancy decorations, gifts, food platters, and dishes are often a nice idea; but in the end may not be realistic to have at this point in time. Better a calm and happy atmosphere than hast that makes waste of happy energy.
Ask for…HELP!
Yes, this is something that not only will your friends and family want you to do, they will probably thank you for doing so. Ask one person to bring the drinks, another to bring music, and another couple to come and help set up and clean up with you. By changing the holiday celebration into a team effort, the day will feel like a holiday and not a holler day.
I hope that you enjoy hosting a holiday party with your friends and family. Happy Holidays!
Learn more about our home management workshops here.